Telemark Canal - Ulefoss & Vrangfoss
If you know Dale, you know he likes a canal. Once we read about the Telemark Canal in one of the free information leaflets we decided to take a detour to check it out. At various points along the canal we were lucky enough to see one of the oldest boats, Victoria, which has been ferrying people up and down the Telemark since 1882. The principle of the locks isn't much different to the UK version but they way in which the lock-keepers open and close them is. They use a ratchet system that's mounted on the ground next to the lock, rather than the long wooden beam.
Stavanger's all about the colourful cafes, restaurants, shops and hair salons with a sense of humour, down in the old town. Great for coffee and people watching.
Preikestolen (Pulpit Rock)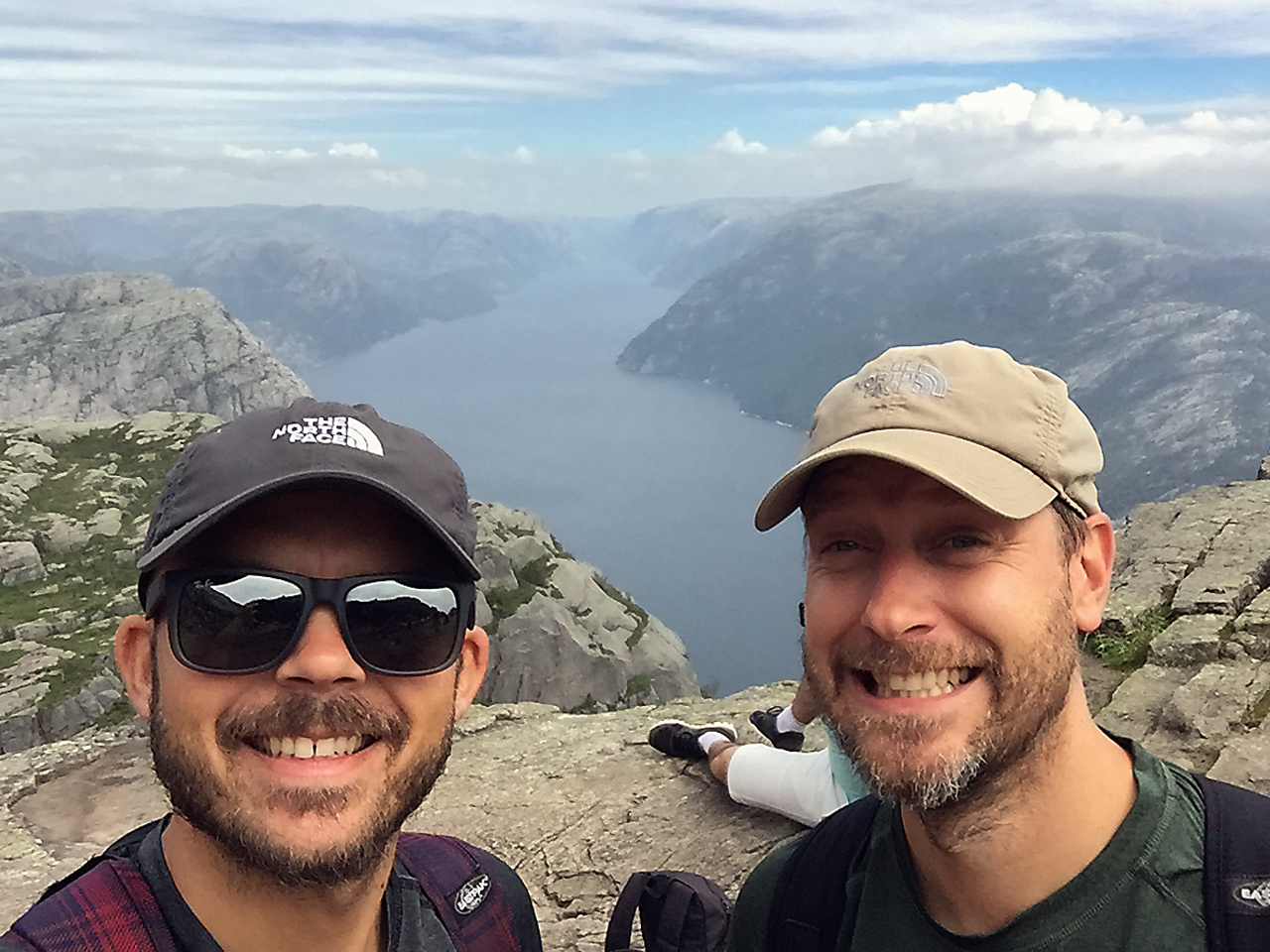 One of the most famous views in Norway, Preikestolen or 'Pulpit Rock' can be reached after a couple of hours walk. Seems like we picked a popular day to do it. It was like a party when we arrived! Lots of people crowded onto the platform that hangs out over the fjörd and up on the cliff face above. I'm not a fan of heights so I can tell you know, I did NOT sit on the edge and dangle my legs over. Dale did though! You can see the closest I got in the selfie. Have I disguised the panic in my face well?
Bergen
Bergen's know for it's rain. It's on the coast and surround by 7 mountains so it's bound to get a lot! We made the most of the dry and sunny day we got by hiking from where we were staying across the valley, up to Skomakerdiket lake and on to the Fløyen lookout which gave us a great view of Bergen. Walking down into Bryggen, the old town by the water famous for its colourful wooden houses. Of course we sampled the local pastries too... they are to die for!
Oslo
Got to hang out with these crazy cats in Oslo. They all live/have lived in Oslo so their local knowledge was great when it came to finding a nice spot for catching some rays and having lunch. Big thanks to Safia and Ronnie for hosting us whilst we were there. You rock!